This post may contain affiliate links. This means we get a small commission for all our recommendations at no extra cost to you.
If you've seen any of our posts before, you know we love wooden crates. We use them as seats for parties, as the building blocks to a donut stand, for picnics, and our latest creation – gift crates!
PIN FOR LATER!
Forget the old boring gift baskets with baskets that will just be thrown into a pile at a garage sale. These wooden crates are so much more useful! You can fill up these baskets with anything you think the recipient would like.
You Will Also Love: Sparkly Christmas Tree for Little Girls
Here are a few different options for crate styles:
Light Wood
DARK WOOD WITH METAL EDGES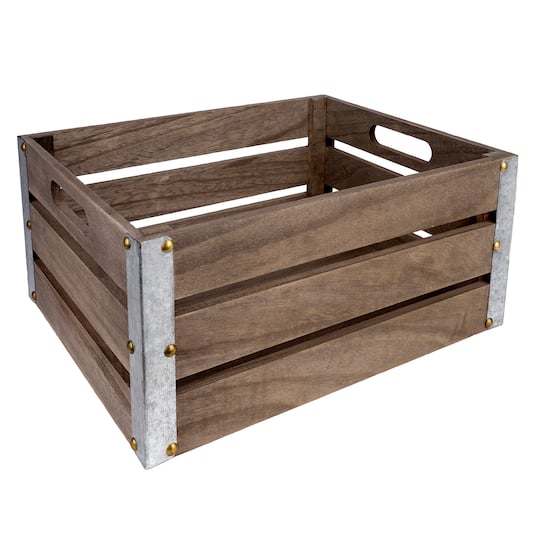 Grey Wood
Distressed
White
With all of us staying home so much, we decided to make this a cozy gift set. It contains everything you need for a cozy night at home:
Cozy all day robe
Slippers
Diffuser
Essential Oils
Mug
Foot lotion
Tea
Candles
Here are some great ideas for warm and fuzzy gifts that you can include in this cozy gift crate.
Put everything inside and then weave ribbon through the sides of the crate. Tie it all up with a ribbon on the top. We added this extra large tag from Dollar Tree.
Here are more fun themes you can put together within the crate:
Wine lovers – wine, wine glasses, cheese, crackers, chocolate
Chocolate lovers – chocolate bars, hot chocolate, mugs
Home chef – mixing bowls, cooking utensils, pot holders, baking needs
Coffee lover – different kinds of flavored coffee, mugs, tumblers
At-home spa – bubble bath, robe, books, wine, bathtub tray
Family movie night crate – Netflix gift card, popcorn, candy, blanket
Hostess gift – serving platter, kitchen towels, pitcher, glasses
The night before Christmas crate – PJs, Santa's cookie plates, snacks
Bridal Gift- Season themed decor items
Holiday gift wrapping – themed gift wrapping, tags, bows, bags
Disney princess – crowns, wands, costume dresses
Gamer – gaming accessories, Xbox gift card, snacks
Date night – wine, glasses, couples games or journals